Limeburners, Lords and Ladies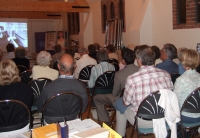 Richard Howell is Secretary of the West Sussex Archives Society (The Friends of West Sussex Record Office).  In 2009 he led the Chichester Group on an enjoyable and informative guided walk around the village of Amberley.
Richard has lived in Worthing almost all his life and has always been passionate about history and old buildings. This passion together with a realisation that much of the history of a building lies in its construction led him to do a course at the University of Oxford studying Vernacular Architecture and by studying for a BA in Landscape Studies at the University of Sussex, graduating in 2011. He has written articles for a number of local and national publications and is currently contributing a regular feature on historic buildings for the West Sussex Gazette.  
Visitors are very welcome.
Please check this page for any last-minute alterations etc.