24-06-2022
7:30 pm
-
10:00 pm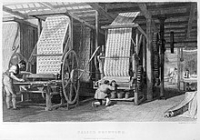 The Printers trade and migration patterns around the London areas. Location of the London trade prior to 1840s. Methods, machines and materials of printing.
David Cufley is President of North West Kent Family History Society. He leads workshops and gives talks to family history and local history societies.
A member of the Guide of One Name Studies and a number of other Family history Societies. He has researched his family since the late 1960s.
23-07-2022
10:30 am
-
1:00 pm
Web Talk
One-place studies involve dissecting a small, definable, geographical areas, to examine the individuals, buildings and processes of the past. 10 steps to get you started.
Janet is an experienced and qualified family, social and community historian who lectures regularly on these subjects throughout the UK and overseas. She has spoken at many national and international genealogical events and is also a well known author.
30-09-2022
7:30 pm
-
10:00 pm
Why can the same birth be registered more than once and in different years ? Why does a single death registration involve three different certificates ?  
This talk will look at the complex rules of registering birth and death events, uncovering the complexities and hidden information these essential  records of civil registration can contain.